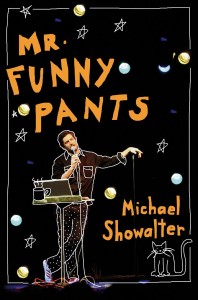 The memoir is a tried and true way notable public figures retell their life experiences from a first person perspective. Many of these works come off as pretentious, bloated, and worst of all boring. None of this can be said however about Michael Showalter's, "Mr. Funny Pants." Showalter, perhaps best known as a member of landmark comedy troupes "The State" and "Stella," has created the perfect deconstruction of the memoir. And it is laugh out loud hilarious.
Michael Showalter has created the definitive anti-memoir. By breaking down the style and structure of the traditional memoir he is able to put his true self on display, warts and all. Never before has the writer spoken directly to the reader about the struggle of beginning to write the book they are currently reading. From being dumped in college, to his devoted love of cats, and the joy of streaking, we are delivered a glimpse of what makes this funny man tick.
Now on a publicity tour, Showalter headed to Bryant Park's Reading Room for the "Word for Word Author" series. "Word for Word Author" is an outdoor reading adventure that features bestselling authors, celebrity writers, and expert-panelists sharing anecdotes, answering questions from the audience, and signing copies of their latest books. For this edition of the ongoing series, the featured author would be interviewed by comedienne Jenny Slate.
Having a sharp, comedic mind like Slate's to perform the interview with Showalter, was a smart move. From her time on Saturday Night Live to her popular web videos with writing partner Gabe Liedman, Slate is a young woman, making a name for herself in comedy. That being said, the chemistry between Slate and Showalter was brilliant, as she was able to both focus on keeping the program progessing, and at the same time, continuously riffing on herself, Showalter, and other absurdest topics. At one point the two decided to perform a theatrical reading from the chapter entitled, "Excerpt from My Imaginary Interview with Charlie Rose." Before they could even begin the reading they were jokingly fighting over which one of them would play the role of Michael Showalter. The crowd loved the interplay between the two.
After the conclusion of Slate's interview with Showalter, a brief Question & Answer session was held. Questions from the crowd ranged from the possibility of a Wet Hot American Summer prequel (which Showalter said was in the works) to his opinion of sketch versus improvisational comedy.
The LocalBozo crew was able to pitch a few questions to Mr. Showalter as well. In "Mr. Funny Pants," he mixes humor with serious and uncomfortable topics- particularly not being cool in high school, and getting his heart broken. When posed if the aforementioned sad episodes was cathartic for him in writing about such memories, Showalter answered, "Yes, it was a way for me to finally let go of issues from my past, and come to a realization that they were silly and move on." We followed that up, questioning if he was planning on turning the book into a screenplay, and the author confirmed that there was a good chance of that happening.
If you are a fan of Showalter's previous works, then this book is a must read. Even if you're hearing about him for the first time, we recommend you pick up the hilarious "Mr. Funny Pants." In doing so, you'll witness a writer breaking stale literary conventions by tearing down the fourth wall of the memoir genre, and managing to make you laugh out loud as he re-examines his own life. Michael Showalter's "Mr. Funny Pants" is now available at bookstores everywhere.
-Alan Smithee
Related Articles
Share
About Author
(0) Readers Comments