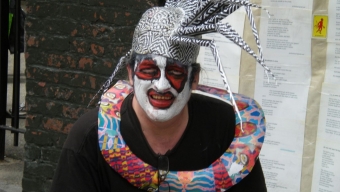 New York City's East Village has long been home to some of the greatest artists, musicians, and writers in history. Artists from The Ramones to Jean-Michel Basquiat have called this downtown section of Manhattan home. One particular resident had such a profound impact that the entire East Village celebrates his name every year- Mr. Allen Ginsberg. Ginsberg, a post-philosopher and a lifelong spokesperson for peace, justice, and freedom, was a leading figure of the Beat Generation. His epic poem "Howl," celebrates his fellow "angel-headed hippies." Sadly we lost Allen Ginsberg in 1997 to cancer but the neighborhood has not forgotten him. The annual HOWL! Festival located in Tompkins Square Park celebrates Ginsberg's championing of self-expression through the arts- poetry, music, dance, theater, fine art, and intersections of popular culture, and artistic expression that defy easy categorization. HOWL! engages and incites people to connect with the arts.
Artists are given carte blanche during the three day HOWL! Festival as 140 artists of all ages turn an 8 foot high, 900 foot long blank "canvas" surrounding the exterior of Tompkins Square Park into a collective collage of self-expression. As the LocalBozo crew walked around the edge of the park we saw that not one of the paintings looked alike. Each of them were created by dedicated artists, who wanted to present an original piece.
The pieces were as diverse as the people creating them. Some of highlights included tributes to the 9/11 tragedy, portraits of legendary musicians like Jim Morrison, and abstract work using dead chickens. New York City is perhaps the greatest place for artists to be able to express themselves because their platform allows them to do so without the fear of censorship! A few of the artists themselves even dressed up in eclectic outfits; some wore face paint, while others wore little clothing at all.
In the center of the park, a stage was erected and throughout the weekend, a revolving cast of characters would take said stage, presenting their craft. On Sunday afternoon, Hip Hop was given its time to shine. Around 2pm, a solid crowd had formed to see some of the up and coming MC's in the area. As each MC took the stage, the audience was able to see some raw talent, as the artists honed their skills in front of a large crowd.
Allen Ginsberg, was alive at a time of immense social change in this country. His work has gone on to inspire all kinds of people to stand up and express themselves. While Ginsberg may not have directly affected each artist, their very existence at the festival proves that his impact can continually be felt long after his passing, Be it in a poem, a painting, or a free-style rap. Self expression, is the key to better ourselves and the world in which we live in.
- Alan Smithee
Related Articles
Share
About Author
(0) Readers Comments