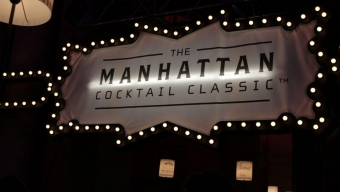 The New York Public Library is a historic landmark that truly showcases how stunning and classy New York City can be. Used countless times as a backdrop on the silver screen, Friday night the library played host to the cocktail and liquor event of the year as the space was virtually transformed into a modern day Shangri-La for connoisseurs of fine crafted alcoholic spirits. The opening gala of The Manhattan Cocktail Classic would hold court inside the historic walls, kicking off the annual five-day celebration of all things cocktail-related. An estimated 3,000 cocktail aficionados imbibed in over 40,000 different mixed drinks spanning two full city blocks and more than four floors inside the lavish event, which combined tuxedos and gowns with fedoras and seersuckers, and as we learned from some of the over 100 Mixologists on hand, the evening gave a celebratory nod to self-expression.
As the handcrafted cocktails were being concocted, each floor was accompanied by its own live musical performance and passed around hors d'oeuvres. Some of the delightfully decadent morsels included pork belly bao buns and bone marrow served on crostinis, while "Steve's" had representatives dishing out liquor infused craft sorbet. Rick Field, of "Rick's Picks" fame was also on hand presenting massive bowls of his beloved pickle creations for sampling. All of these treats paired brilliantly with the abundance of cocktails being served.
Perhaps nobody was more sought after at the event than star Mixologist Tony Abou-Ganim, author of the recently released book "The Modern Mixologist: Contemporary Classic Cocktails." Additionally, Abou-Ganim won the 2007 Iron Chef America competition with Mario Batali, "Battle Mango" and released his first DVD "Modern Mixology: Making Great Cocktails at Home." On this night however, Abou-Ganim was working in the Campari booth. Campari has officially declared 2011 to be "The Year of the Negroni," a customized cocktail prepared with equal parts Campari, gin, and sweet vermouth. Said Abou-Ganim, "The Negroni is a classic cocktail, where the original ingredients speak for themselves, but one must have a watchful eye over the drink's execution." He then went on to masterfully mix and pour the tasty, deep red beverage for us to sample. Strong and sweet, the Negroni went down smooth, and Abou-Ganim's eyes caught ours as we gulped them down, as he remarked that he would love to see the Negroni become a staple in many of Manhattans drinking establishments.
The Hendrick's Gin table located in the front of the gala was, in our opinion, the greatest sampling booth of the evening. Needless to say it was also the busiest, due to their featured cocktail, "The Snow Miser." Named after a character from the 1974 stop-motion animated Christmas special, "The Year Without a Santa Claus," The Snow Miser consists of Hendrick's Gin, soda water, lime juice, and is lightly garnished with fresh slices of cucumber and fresh mint. The summery cocktail is refreshing and easy to drink, which is perfect for someone who tends to shy away from liquor.
With every conceivable liquor brand being represented, it is impossible to name all of the incredible standouts. But some other notable favorites from the event for us included Park City Utah's High West, a silver oat whiskey drink served with, ginger liquor, and seltzer water, Avion's "Summer Escape," a refreshing mix of their smooth tequila, lime juice, watermelon, and a spoon of honey, and Bombay Sapphire's "Laurel and Hardy Cocktail," a collection of the gin, brandy, lemon juice, creme de mure, 1 dash of egg white, and a twist of lemon. Each of these managed to surround the familiar taste of the liquor with the distinction of different complimentary mixers, only serving to bring out the best from each brand.
The event's opening night gala was as classy and well planned an event that Manhattan offers to the general public. Each floor provided a completely different drinking experience and vibe than the one which preceded it. From the ground floor's chic, black-tie feel with an elevated house band, to the basement level's clubby, modern space with Cirque Du Soleil acrobatics being performed overhead, to the top floor's much more casual live band, in an albeit stuffier surrounding. If you missed out on the gala itself, make sure you're on the lookout for it in 2012. It is simply an event not worth missing. The Classic does run through tomorrow night so there is still time to catch some of the fantastic remaining events at The Manhattan Cocktail Classic. And if that's still not enough, we've posted five fantastic cocktails that you can try to make yourself this summer, so you can experience The Manhattan Cocktail Classic right in your very own home. Black Tie is still in fact optional.
- Alan Smithee & Jane Van Arsdale
LocalBozo.com's Drinks to Try This Summer
Hibiscus Julep
Tim Cooper, Contemporary Cocktails
Ingredients:
2 ounces Dickel #12
3/4 ounces  Hibiscus Syrup
Mint
Angostura Bitters
 Preparation:
Add mint and hibiscus syrup to rocks glass and muddle.
Add crushed ice, add Dickel and more crushed ice.
Stir until glass is frosted.
Top with three dashes of Angostura bitters and garnish with a large mint sprig.
 Ideal Serving Glass:
Rocks
 Yield
1 drink
Tequila Don Julio Shoeless Sultan Luxury Drop
Brian Van Flandern, Tequila Don Julio Global Brand Ambassador
 Ingredients:
1 ounce Tequila Don Julio Anejo
1/2 ounce Dry Palo Cortado Sherry (Lustau Almesenista)
1 ounce Fresh Mango Puree
1 ounce Simple Syrup (1:1- 50% Sugar; 50% Water)
1/2 ounce Fresh Key Lime Juice
Muddled Rosemary
Pinch of Chipotle Chili Powder
Rosemary sprig for garnish
 Preparation:
Muddle fresh rosemary in a cocktail shaker.
Combine Tequila Don Julio Anejo, Dry Palo Cortado Sherry, Fresh Mango Puree, Simple Syrup and Fresh Key Lime Juice into the cocktail shaker with the muddled Rosemary and ice.
Shake well and strain into a shot glass.
Garnish with a sprig of fresh Rosemary.
 Ideal Serving Glass:
Shot glass
 Yield:
1 drink
Zacapa El Presidente Persico
Danny Valdez, Zacapa National Brand Ambassador
Ingredients:
1 1/2 ounces Zacapa Rum 23
3/4 ounce Cocchi Americano
1/2 ounce FAIR Goji Liqueur
Grand Marnier® spritz
 Preparation:
Combine Zacapa Rum 23, Cocchi Americano and FAIR Goji Liqueur into a cocktail shaker with cold draft ice.
Stir well and strain into a Martini glass.
Spritz with Grand Marnier®.
 Ideal Serving Glass:
Martini glass
 Yield:
1 drink
Tanqueray Rickey
Brian Miller, NYC mixologist
Ingredients:
1 1/2 ounces Tanqueray London Dry Gin
1/2 Crème Yvette
Half of a lime
Soda water for top
Lime wedge for garnish
 Preparation:
Fill highball glass with cubed ice.
Cut fresh lime in half and squeeze the juice into the glass.
Pour Tanqueray London Dry Gin into the glass.
Add Crème Yvette and fill glass with soda water to top.
Stir the drink and garnish with a lime wedge.
  Ideal Serving Glass:
Highball glass
 Yield:
1 drink
Related Articles
Share
About Author
(1) Reader Comment