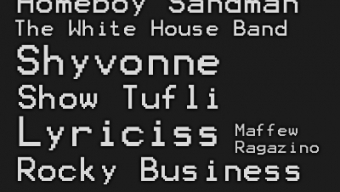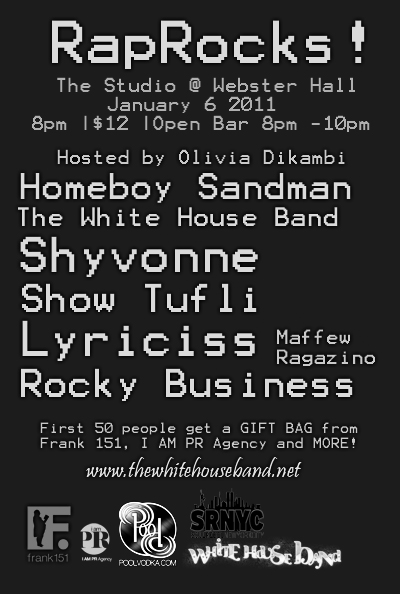 Join LocalBozo.com, as we celebrate a night of truly eclectic and energetic music, this Thursday, January 6th at The Studio at Webster Hall. The Rap Rocks concert series features the Brooklyn based White House Band in a co-headlining showcase with Homeboy Sandman. LocalBozo.com will be on hand to cover the event live and get an exclusive interview with The White House Band, backstage before their performance- featuring songs from their full length debut "The Method," which dropped in July. Combining a mix of hip-hop, blues, and hard rock, the band has some type of music for everybody, and when the weather's cold and wintery, there's no better way to heat up than with a raging concert. Tickets are just $10 in advance, and $12 at the doors, including an open bar by Pool Vodka from 8-10pm. Stop on by for a night of head banging, shot taking and hip shaking, and high-fiving your favorite emerging media website, LocalBozo.com.
The evening's lineup includes Lyriciss, Shyvonne, Rocky Business, Show Tufli, Maffew Ragazino, Homeboy Sandman, and The White House Band, and the first 50 people to show up receive giftbags. What else are you doing- "Bones" is in re-runs and you have a DVR! Come on out and see us live!
Check out some music by the White House Band.
For Ticket and Show Information, check out Rap Rocks!
- Jane Van Arsdale
Related Articles
Share
About Author
(0) Readers Comments