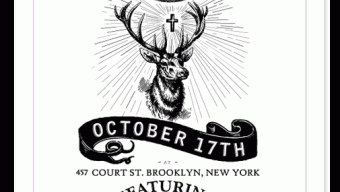 LocalBozo.com wraps up this past weekend with a rundown of two of the city's most fun street fairs.  If you made it out to either one, you can relive the experience with us.  And if you unfortunately missed out on the experiences in person, find out exactly what went on below.
Over 40 of Manhattan's tastiest restaurants, vendors, and food carts packed in tightly to the Hester Street Fair space at Essex Street on Saturday morning for New York Magazine's Grub Street Food Festival.  The day-long event featured some of the tastiest treats from the area's best eateries and we made sure to get there early to avoid some of the lengthy lines that we imagined would ensue.
Aside from the many restaurants, resident DJ's from Santos Party House were on hand to ignite the crowd's feet after their appetites had been satiated.  With Luke's Lobster, Georgia's Eastside BBQ, and Char No. 4 on hand, and a long line from Kickstand Coffee right near the front entrance and Pako Tacos in the back, coming early was a blessing- even if 11am may be considered a bit early for eating pork.
Grub Street Food Festival
The beauty of the event was captured by both the incredible weather of Saturday afternoon and the affordability of tasting items from some pricey New York City eateries.  Each restaurant was equipped with specific vendor-like space and each was serving between 2-5 different small tasting items, affordably priced between $1-$6, which gave patrons the ability to try out many of the different foods without breaking the bank.  The minor nuisances of people being accompanied by their large dogs or bulky strollers, and the limited space to really sit and enjoy the event aside, the Food Festival was a resounding success.
As for LocalBozo.com, we dug in immediately.  Il Buco had an incredibly creamy panna cotta topped with a touch of ten year aged balsamic vinegar ($1) for a truly incredibly mixture of tastes.  Next up was Macao Trading Co. and their mouthwatering chicken and pork belly dumplings ($3).  Each was firm and filled with juice that exploded on first bite.  Pies N Thighs was our next destination as the chicken biscuit ($3) was coated with a savory but not spicy buffalo sauce over a perfectly tender chicken breast.  The size was slider-esque, but the taste packed a wallop.  Wanting a taste of a little bit of everything, we stopped by Moo Life.  Even though we've been to The Sunburnt Cow and Bondi Road countless times, we just couldn't pass up the lamb slider ($3)- a pulled lamb sandwich topped with hints of cilantro and a wasabi mayo spread- which turned out to be the highlight of the afternoon for us.  Not to be out done, our final spot was Arancini Bros. for an incredible pumpkin rice ball ($5).  A fried ball filled in with orange pumpkin puree and a melted mascarpone cheese, coated with crushed amaretto cookies was the perfect closure to a fantastic afternoon.
If you made it out to the event, you already know what a tremendous experience it was.  For more information on the fair and all of the vendors there, checkout hesterstreetfair.com.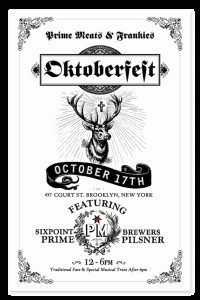 FRANKIE'S 457: OKTOBERFEST

Every fall, the city of Munich, Germany celebrates what could be called one of the greatest festivals on planet Earth.  This cultural phenomenon is known simply as "Oktoberfest."  In recent years this Bavarian tradition has been taken stateside, allowing various American businesses to put their own stamp on the festivities.
On Sunday October 17th, Prime Meats and Frankie's 457 of Cobble Hill, Brooklyn put their own special touch on Oktoberfest.  The crisp and sunny weather made for a perfect fall day and a perfect backdrop for the celebration. Two large tents were erected in the back garden of Frankie's, each of which held some of the culinary staples of German culture.  A walk through the tents offered some pretty exciting food options.  You could easily have a light snack and chomp down on some perfectly baked pretzels, dipping them into traditional mustards. Heartier eaters were able to dive right into some potato salad, and decadent apple strudel.
Even though this was a German festival, Frankie's had to put their spin on one particular food option by offering oysters shucked to order, with your choice of condiments.  The local oysters fit in well with this Brooklyn crowd, who has come to love this sea faring delicacy.
Obviously, no self respecting Oktoberfest party would be complete without the spirit that provides its name.  Sixpoint Craft Ale's held court as the sole purveyor of suds for the events, as they hold a close partnership and friendship with the owners of the Frankie's family of restaurants. Both parties have worked together feverously to create a limited edition ale that can only be found at said restaurants.  The flavor of which was excellent, only helping to enhance the taste of the food at the event, without being overpowering. If you are a beer lover, you need to head over to Frankie's to sample some of this delectable brew.
-  Alan Smithee & Jane Van Arsdale
Related Articles
Share
About Author
(1) Reader Comment