LocalBozo.com is all about finding value in New York City.  If you haven't heard ot the Upright Citizens Brigade, you have surely heard of or seen the stars that have emerged from the troupe.  Debuting in New York in 1996, the group has spawned a comic cast including Amy Poehler, Matt Walsh, Horatio Sanz, and Adam McKay to name a few.  And despite a short lived series on Comedy Central from 1998-2000, the show moved from its West 22nd Street location to what has now become the signature Upright Citizens Brigade Theatre on West 26th Street and has resumed its rightful place as a stomping ground for young, emerging talent.  The group also teaches improv classes to aspiring comedic thespians.  And the best part is the ability to see some rising stars, before they become them, all for a ticket price under $10.
We were fortunate enough to take in a variety show called, you guessed it "Variety Shac," which returns continually on the first Thursday of every month.  In what was our first trip to the 150 seat theater, we were drawn to the show advertising two writers from Saturday Night Live, and they did not let us down.  The show was $5, and it should be mentioned that unlike other comedy shows, there was no per person drink minimum, so two of us rolled in to see a live show for an even $10.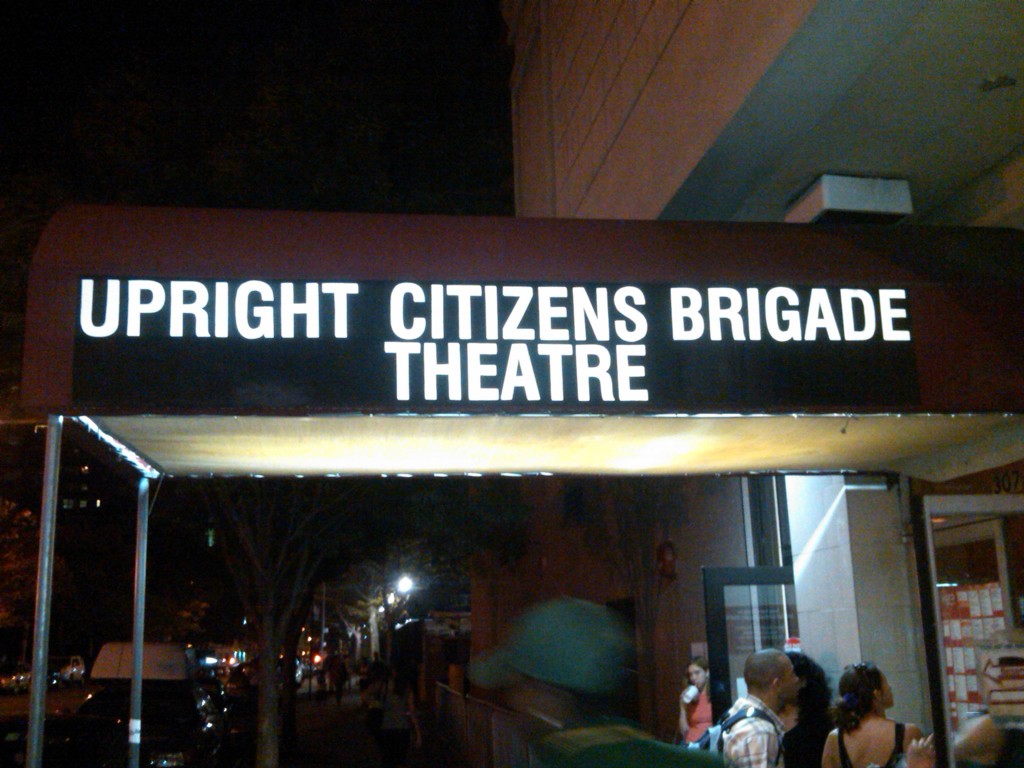 The show opened with host Shonali Bhowmik attempting to play an original song on her guitar while a clip from Evel Kenievel (1971), the movie starring George Hamilton, was humorously played on a screen behind her.  Unfortunately, as in live shows, there were several technical difficulties with the instrument and theater sound, which distracted the audience from the performance, even though her idea was sound.  Bhowmik then introduced SNL writer Hannibal Burress, who launched into some funny stand-up about losing his credit card and the absurd charges that somebody rang up.  Following Burress, was fellow SNL writer John Mullaney, who was also fantastic.  Clearly the performers here were testing out some new material, but Mullaney's bit about detergent had us in an uproarious laughter- the funniest moment of the night.
Following Mullaney were two of the female performers from the Variety Shac, and they were utilizing some jotted notes to help them along with their new bits.   Heather Lawless was out first and performed as an uncomfortable character with a monologue based mostly around her vagina.  And Andrea Rosen was the final live act, who mixed some raunchiness with some playful impressions.  While all of the jokes weren't necessarily home runs, the attempts were certainly worth watching.  The show closed with a pre-recorded short called "Cops," featuring the four ladies from the Variety Shac.  Again, the crowd reacted favorably to the sketch, but the vibe alone was definitely a positive one.
The Upright Citizens Brigade is worth experiencing live at least one time, and while we can honestly say that we laughed hard at times and shrugged our shoulders at others- live comedy is an art form and is one of the ballsiest things any performer can try.  And at such an affordable price, a live show like this is a can't miss.  The place was packed in, so it's not like we are breaking any ground here, but if you're looking for something new to try in New York, with four shows nightly, the UCB Theatre is as entertaining an experience as any.
-  Jane Van Arsdale
Related Articles
Share
About Author
(5) Readers Comments