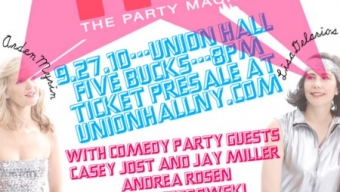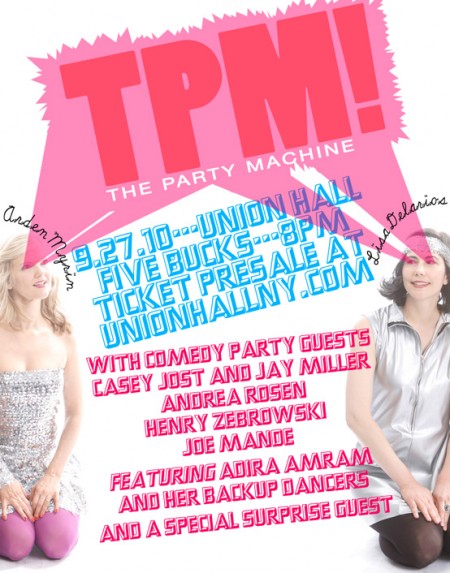 The variety show is one a corner stone of American pop culture.  The tradition lives on once a month at the Park Slope mega bar, Union Hall.  Arden Myrin (Working, Mad TV, and Chelsea Lately) and Lisa Delarios have joined forces to bring us, "The Party Machine."
The duo hit the stage in full force, brandishing Extreme Gulp mugs ready to get the party in full effect.  This month's "Party Machine" theme was Back to School.  Both Myrin and Delarios, were clearly excited about this year's fall fashions and showed the audience a fall fashion slide show.  We all learned that the now popular "Jeggings" were created mere months ago, and never existed before that.
Every party (machine) needs music to shake your ass too and Monday night was stacked with both musical and comedic talent.  Casey Jost and Jay Miller, the two "brothers" as they called themselves, attacked the crowd with hyped of versions of nursery rhymes.  Also on the music tip, Adira Amram, along with her back up dancers lit up the stage with a rousing rendition of a non-coincidentally titled song "Party Machine."  The song was extremely catchy and the lyrics were hilarious. It should be the theme for next month's show.  Adira, gets points for bringing back the mid nineties C&C Music Factory vibe, while at the same time playing a Cheeseburger Kazoo. That's fucking class.
The next act up was introduced as a magician, which instantly gets me excited for some reason.  I guess it was a result of many viewings of David Copperfield specials when I was a kid. But I digress, as it was an obvious comedic ruse.  Henry Zabrowski lurched onto the stage as a character that I can only describe as a man with horrifyingly oversized hands.  Zabrowski went through an extremely funny list of people who he has maimed with his monstrous hands.
Variety Shac troupe member and New York comedy scene regular Andrea Rosen workshopped some great new material about new indie band names that have to be a complete sentence in order to be hip and girls that are true sluts.  Meanwhile, Joe Mande talked about his youth in a rough school by teaching the thugs how to secretly gamble using a dreidel so that they wouldn't strangle him.
The first special guest of the night is a major headliner- Todd Barry. He hit the stage with a purpose.  A purpose not to tell any jokes, since his name was left off of the Union Hall chalk board for the shows line-up.  Instead he went on a ten plus minute riff on everything from mocking the two vivacious hosts and trying to get free clothes from a jacketed chap in the front row.  Barry, who will be opening for Ricky Gervais at an upcoming Chicago date, is a fantastically talented comedian and seeing him live is an absolute must.  Even with no prepared jokes this guy had the crowd literally rolling.
The Party Machine really outdid themselves on Monday night.  After a jam-packed line -up, this crowd got more then it deserved.  But, the show was not over yet.  Myrin took to the stage to introduce the final guest of the evening- Louis CK.  CK, who was most likely coming from another club in the city, killed it as soon as he took the stage.  This guy relates so well to audiences with his great stories that always end with a rounding pop of true belly laughter.  This is most likely why he is regarded as one of the country's premiere stand ups. He also has a wildly funny show on the FX Network, titled Louie.
As for the hostesses of the evening, Myrin and Delarios are both engaging and talented performers.  They take on absurdist comedy and make it work tenfold.  If you are a fan of comedy, music, and Brooklyn bar basements then you have to head over to next month's show. It will be Friday, October 15th at Union Hall in Park Slope, Brooklyn.  The theme is Halloween Party!  The cost is $5.00, and after this month's amazing show with great special guests, you would be a moron- a real creep not to attend.
-  Alan Smithee
Related Articles
Share
About Author
(1) Reader Comment