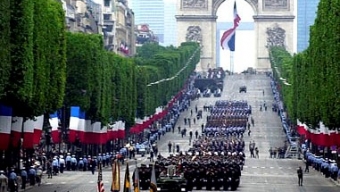 In Parisian culture, July 14th symbolizes France's day of independence from itself.  It celebrates the revolution from the oppression the French Monarchy placed on its people for many years.  It shows how people can rise up, and break it down, as the Parisian people did by storming the Bastille and righting an unjust system.
In the present day many countries celebrate this holiday aside from France and they all have their own way of making it special and original.  The popular Brooklyn neighborhood of Carroll Gardens has their annual festival take place the Sunday following the holiday on its bustling Smith Street.  The street is virtually transformed to resemble a French street with partying in full effect.
The first thing we noticed was several huge sand courts set up along the street, which we initially thought were for bocce ball, a very popular game in the Brooklyn area.  But this was not in fact the case.  The game, petanque, is one of France's oldest pastimes and is very similar to bocce in nature.  It involves two teams, each made up of two, four, or six people.  Points are scored when teams throw their "boule" or ball, and try to hit the "jack" ball on the sand court. I did not realize how popular this game was in Brooklyn, as each of the courts was extremely packed with players and had waiting lists that went on for hours.
Food in general excites me.  There is nothing better than walking around a street fair, enjoying samplings from different cultures.  Sausages of all kinds were a plenty on Smith Street that day and the smoky goodness could be smelled from at least a mile away.  My sniffer led me in the right direction, toward a huge grill with a one-man army working it.  Mind you it was a hot day and this grill was literally covered with different types of sausages, all of which were excellent.  It also didn't hurt that there were burgers as well.  We sampled a few of them from different stands.  We all know that New York City is now an official burger capital for the country, but there is nothing better than having a burger charred fresh off of an outdoor grill.  The heat, the grill marks, and the neon yellow cheese all work in concert to provide you with the utmost chewing pleasure.
An outdoor summer street festival would not be complete without the help of some cool spirits, and I don't mean positive attitudes!  As we strolled through the hot July weather, we needed some refreshment and luckily for us Bastille Day in Carroll Gardens was the perfect place to wet our whistle.  The first beverage we sampled was a delightfully cool glass of red sangria (the option for white was available, but we are huge creatures of habit). The stand selling it was supporting a charity as well, so along with the cold cup of fruity wine, I gave a little back, which felt good.
As we ventured further down the street, we could see festival-goers drinking this cloudy yellow ice filled beverage.  Upon further investigation, we discovered that this drink was called a ricard (pronounced re – card).  Each glass cost only $4.00 so it was well worth our money to explore the liqueur of a different culture and we were lucky we did.  The first taste brought flavors of black licorice.  It was quite a treat and reminded me that every culture has a drink just like this.  In Greece, it's called ozu. Both drinks are popular after dinner drinks.
The hours seemed to fly by as we drank in both the culture and the alcohol.  Needless to say, the day was a lot of fun.  Everyone had a smile on their face and seemed friendly.  People could be seen on picnic tables on side streets embracing and singing French music.  This was truly a fantastic affair for all the ex-pats who now live in the area, and for a relative novice like me to French culture.  So Bozos, mark it on your calendar next July and we will see you on Smith Street for Bastille Day.  P.S. Bring cash.
-  Alan Smithee
Related Articles
Share
About Author
(1) Reader Comment