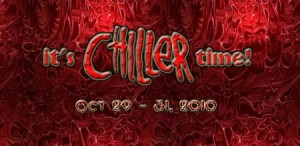 Twice a year, horror and pop culture fanatics of all walks of life converge at the Hilton in Parsippany New Jersey for the Chiller Theatre Expo, one of the largest conventions on the east coast for all things horror.  The convention is next weekend, October 29-31st.  This is their official Halloween season convention and they go balls to the wall.  We at LocalBozo.com think you need to be at this event, because it is one of the best times of the year in our area.
Do you like buying stuff?  We know you do! The Chiller Theatre Convention has everything that the horror and/or pop culture fan could possibly want to own.  Learn from me- take it slow.  Yes, there are a lot of things that you will want to buy right away, but it is so important to shop around and look for value.  Otherwise, your cache of "it seemed like a good idea at the time" items will grow exponentially.  So, walk around and take your time!
If you like celebrities, especially ones' of yesteryear (C list), then Chiller Theatre is where you need to be next weekend.  When you enter the convention floor you will see a large pit area that is literally filled wall to wall with famous faces.  This year's celebrity guest lineup runs the gamut from TV personalities such as Ian Ziering and Patrick Duffy to horror icons like Bill Moseley, and Tom Savini.
Also, be prepared to wait in a long line. This is one of the biggest conventions and it gets bigger and more popular every year.  In conventions past, the line for autograph seekers has stretched out into the parking lot. But, if you're a diehard you'll wait.  Trust me it's worth it.  A few years ago we met and subsequently took a picture with Gary Coleman (whose table was next to Kane Hodder). He's dead now. At least he got to meet me before he passed.
For the LocalBozo crew, Saturday night is truly the best part of the Chiller Theatre. Once the convention floor closes the real party begins. As night falls, a stage is erected, turning Chiller Theatre from a house of horrors to a house of Rock!
The lineup of bands ranges from "Girl Rock" to metal but the true headliners are The Dead Elvi, the official Chiller Theatre house band.  The Dead Elvi consists of some of New Jersey's best Rock musician's.  Even Kevin Clement, the founder of the convention, gets in on the fun as one of the band's guitarists.  Since their name is derived from Elvis Presley, many of the members don Elvis wigs and sunglasses.  They are known to play a mix of popular surf rock, classic rock, and even a few originals, like one of my favorites, "The Creature Stole My Surf Board."
But please, make sure you stay for the entire set, as there are plenty of surprise guests along the way.  Remember all the famous faces signing earlier? Well, many of them stick around for the band and even come on stage.  In 2008, Ray Parker Jr. jumped on stage and did a crowd pleasing rendition of his classic, "Ghostbusters."  The surprises continued throughout the night when Mickey Dolenz from, "The Monkees" came out and sang, "Daydream Believer."  That's the amazing thing about Chiller; all of these amazing people from your fondest memories are in one place.
It must be said that the convention is an amazing time for fans of horror and pop culture in general.  That is why we are pleased to tell you that the LocalBozo crew will be at this year's Chiller Theatre in full force.  The true cherry on top of this horrifying sundae is that "Mausoleum of The Macabre" host Needles the Gravedigger, will be walking the floor interviewing convention goers and (hopefully) forcing Frank Stallone into a conversation (one can dream).  All LocalBozo.com readers are invited to come down to the convention and party with Needles—we won't be hard to find.  For more information on all of the guests and vendors scheduled to appear, check out www.chillertheatre.com, and we'll see you there.
- Alan Smithee
Related Articles
Share
About Author
(0) Readers Comments