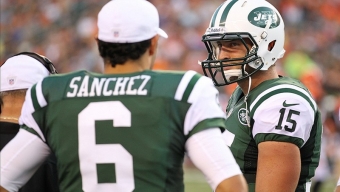 Looking for last minute, off-the-cuff weekend plans? LocalBozo.com has got you covered. It's not too late to figure it all out. For a glimpse of upcoming events that we'll be covering, check out the calendar in our side bar to your right. Otherwise, here are a few highlights to check out in and around Manhattan this weekend!
Arts & Culture
Saturday, September 8th – Do you love Hip-Hop and old school rap? If so, photographer Michael Snapps Knapp has you covered with a very rare photo gallery featuring never before scene pictures of your favorite rappers. Admission is free, and photos will be available for purchase at show. (Snapps NY)
Sports
Sunday, September 9th – Gang Green has returned! Mark Sanchez and your New York Jets brush off the bad vibes from the 2011 season with a stacked new roster to fix their defensive and running game, paired with a coach who dropped a ton of weight. This Sunday at 1pm, the Jets take on the Buffalo Bills. (New York Jets)
Music & Entertainment
Friday, September 7th – Movie release day. Quiet night tonight? Check out these two flicks coming out today. Are you up for women behaving badly? Then head to the cinema, or video on demand to check out Kirsten Dunst, Isla Fisher and Lizzy Caplan in "Bachelorette" (R). The plot of bridesmaids messing up the planning to a longtime friends wedding may seem familiar. But, trust us this entry into this new film trope takes a much darker approach. Busy leading man, Bradley Cooper stars in the much talked about, and LocalBozo.com approved "The Words" (PG-13). The film tells the take of a writer at the peak of his literary success discovers the steep price he must pay for stealing another man's work. Either way you go prepare for a dark, and introspective day at the movies!
Friday, September 7th – For one night only members of Pantera, Anthrax, and the mighty Slayer will form an unholy alliance tonight at The Gramercy Theatre! It's Metal Masters 4, a love letter written in blood to all the headbanging metal heads in the tri-state area. The LocalBozo.com crew will be in the house, so Tweet us out and raise those horns up! (The Gramercy Theatre)
Nightlife
Friday, September 7th – Celebrate the beginning of fashion week in grand style at the 2012 Tech Does Fashion Week by members of the NYC tech community. AlleyNYC will be the evenings home to hundreds of movers and thought leaders in the space for an evening of fun, music, and dance to the stylings of DJ Ben Collins of Modern Art Records fame. Get a chance to mingle with some great talents. Unlimited Drinks & hors d'oeuvres provided with ticket purchase. (Tech Does Fashion Week)
Other
Saturday, September 8th – Beer Sessions Radio and Edible Queens present Barrels & Kegs: A Rockaway Beach Beer Event! Board the ferry and kick back, because you're going to the shore. That's right brews by the water. Ticket holders will have access to beer concessions for samples from breweries such as: Sixpoint, Greenport Harbor, Ommegang, Bronx Brewery, and many others! (Barrel & Kegs)
Saturday, September 8th – Lover of all things on a bun, Josh Ozersky is back. Yes friends, Mr. Ozersky's Meatopia has descended on our city to feed drovers of carnivorous on popular festival spot, Randall's Island. Ticket holders should expect a near endless selection of prime meat dishes from the best local chefs and pit masters.  (Meatopia)
And as Always, Droid users- make sure to Download the official LocalBozo.com App for FREE from Google Play (formerly the Android Market)! Get all the information we can fit onto your smart phone, NOW!
Related Articles
Share
About Author
(0) Readers Comments