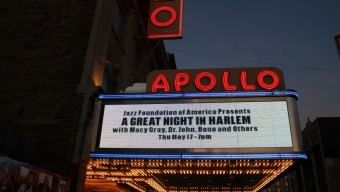 Blog: A Great Night In Harlem at The Apollo Theater
On Thursday night stars and music fans aligned at Harlem's legendary Apollo Theater in support of the Jazz Foundation, a 23 plus year effort to keep jazz and blues music alive. And by stars we aren't referring to those specks of sparkling light in the sky. No, we're talking about music royalty the likes of Dr. John and U2 lead singer and humanitarian, Bono. These two men and so many more gathered on one stage for the "11th Annual The Jazz Foundation Presents  'A Great Night in Harlem.'" LocalBozo.com was on the red carpet, starstruck by the gala that directly supports the Jazz Musicians Emergency Fund.
The cause was a good one. The Jazz Foundation is the nation's only organization dedicated to saving the lives and homes of elder jazz and blues musicians in crisis. These trailblazing men and woman have given us decades of brilliant music, sometimes at their own expense so it's only fitting that we step up and do our part to give back. In response, the JFA has grown to support more than 6,000 cases a year with emergency assistance in place. For the decade's old organization, it is paramount to help keep a musician's dignity and purpose intact. This is accomplished through year-round live performance opportunities, where this landmark music is brought to schools, nursing homes, hospitals, and on this night, the Apollo Theater stage.
The sold out celebration raged on inside the Theater, as Bono busted out a flawless rendition of U2′s classic, "Angels of Harlem," a song quite fitting for the evening's festivities. Several of the night's special guests took the time to step out onto the red carpet to meet with local media and say some kind words about the gala. First up, was soul and R&B legend Roberta Flack, who was all smiles and full of jokes for the crowd. At one point she invited everyone to an afterparty at Sylvia's, another famous Harlem landmark known for their good eats. She also promoted her new album 'Let it Be Roberta,' filled with Beatles covers like "Hey Jude" and "Let it Be".
Next up were John Ventimiglia and Vince Curatola, stars of HBO's The Sopranos. Both men were in high spirits and posed in all their TV gangster glory. Saturday Night Live alumni Robert Smigel and Darrell Hammond followed with Smigel sporting the 'Triumph The Insult Comic Dog' puppet which he used on stage earlier that night. Finally, "Q" himself would grace the carpet with his presence. Yes, the one and only Quincy Jones commented about this momentous event for giving back in only the way he knows how- cool. When asked about the U2 frontman's appearance Jones said, "Bono is my brother. We travel the world together in support of events just like this."
The Jazz Foundation of America needs your support. If you have ever kicked back and enjoyed classic jazz and blues, isn't it time to give back? Head over the Jazz Foundation website, to find out how you can contribute today.
- Jay Rubin
Related Articles
Share
About Author
(0) Readers Comments