What You Need to Know About Winter Events in New York
LocalBozo.com is dedicated to bringing you the best that the winter season has to offer. Some of the offerings have been shows that make you feel like a kid again. While others brought you to the best outdoor markets for purchasing your holiday gifts for that special someone.
In this edition of the Winter Preview we will explore some well known events and one that most of you have never heard of. But I guarantee that you will be clearing your calendar for it once you've finished reading.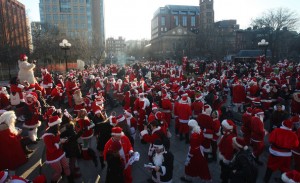 SantaCon 2010: Saturday, December 11th
Yes you read that right. On Saturday morning December 11th, New York City will be overrun by jolly old St. Nick. SantaCon is a massive event where people like you and I throw on a Santa outfit very early in the morning and meet up with hundreds of like-minded fun individuals.
This annual event can be referred to as a "happening" or a modern day street performance. Either way it is a sight to be seen. You may be wondering, is there drinking involved?  There sure is. As the band of Clauses roam the streets, there will be several stops at fun NYC pubs along the route. So be prepared to make friends while you wait to get a drink. Also be sure to break a camera, and bring a wallet filled with money, because Santa doesn't like to stop at the ATM!
I know this all sounds like mass chaos, but it isn't. The (anonymous) people who run this have it well planned. The morning meet up is announced on their website, with the exact location spelled out. The group is held together through regular Twitter updates. This is to prevent Con participants from wandering into unfriendly areas, and getting in trouble with the law. Technology sure has come along way, right?
Remember this is not a free for all.  Nor is it your typical pub crawl.  SantaCon is about fun, self expression, and showing others that hundreds of strangers can work together as one and put on a very cool event without a riot breaking out.  Just remember if you plan on attending you MUST wear a Santa outfit.  A hat is not enough. So hit the stores now before everything is sold out. LocalBozo will be at this year's Con so be sure to follow us all day on our Twitter and say HoHoHo.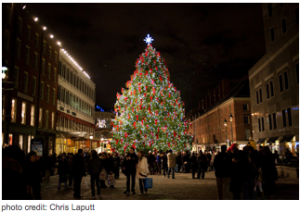 South Street Seaport Christmas Tree
With the tree in Rockefeller Center now lit, why not check out another tree in an equally iconic part of the city. Situated in the center of the historic cobblestone street, the South Street Seaport Christmas tree is definitely a must see this holiday season.
During the month of December, the South Street Seaport Christmas tree will play host to a variety of events to keep you in the holiday spirit. Every Saturday & Sunday through December 19th (Pier 17, 3rd Floor at 1pm) will be "Storytime with Santa."  This is a great time to bring the young ones into the city for a fun and safe event for them to meet the man himself, while hearing some great stories!
Do you like Christmas music?   Who doesn't?  Starting  this Friday, December 3rd with the New York Gay Men's Chorus, you can watch, and listen to some of the best singing groups that the city has to offer. Nothing beats soaking in the winter air, while hearing a great, live rendition of your favorite song. The live Chorus Tree performances will conclude the weekend of December 17th-19th, with The Young New York's Chorus.
Since, you're already down in the Seaport, why not check out some of the great shopping. You can pick up some last minute gifts at stores like The Yankee Clubhouse or even Brookstone. When hunger starts to set in, food is always close by. You can duck out of the cold and into the famed Heartland Brewery for a burger and a great pint of seasonal beer. Sounds like a no brainer!
Christmas will be here before you know it. And after that it's just really cold out. So why not take advantage of these activates with the one's you love, and or like. It's always best to go out in a group, and share some great memories together. Until next time, Happy Holidays!
- Alan Smithee
Related Articles
Share
About Author
(0) Readers Comments