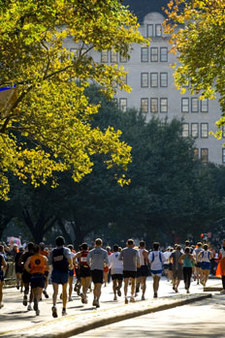 The first Sunday of November is coming.  With it comes thousands of runners and they're coming fast!  This Sunday, November 7th, the world famous ING New York City Marathon returns to the Big Apple.  The legendary event spans all of New York's boroughs, along crossing many of its iconic water crossings. With more than $600,000 in prize money and the chance to become a media darling at stake, runners of all walks of life are chomping at the bit to get started.
The race will begin on the upper level of the Verrazano Bridge and finish on Central Park West.  All along the race route, spectators both old and new will be able to view the diverse participants in the race, without breaking a sweat themselves.  Many past winners of the marathon have been global participants, hailing from such African countries as Kenya and these men and woman have dazzled and delighted all with their almost super hero like running abilities.  If Seinfeld taught us anything, runners remember to set five alarm clocks, so you don't oversleep for the race.
The amazing diversity of the marathon goes even further. A seasoned, accomplished veteran runner can be waiting at the starting line with a complete newbie, who has spent weeks and months building the endurance to finish this race. It's also important to mention the courage and strength of the race's disabled competitors.  Each year's Marathon serves up a new story of inspiration and human perseverance as these runners overcome every potential obstacle to take their time and finish the race.  The personal satisfaction simply by finishing must be as incredible for these runners as it is moving for us as onlookers. We can all succeed by working hard for it. It's that simple.
For casual marathon fans like myself, we too have our viewing options, as most city bars will be showing the race on their big screens. This is where being a reader of LocalBozo.com has its benefits: we have an inside tip for you.  The marathon will be traveling to Park Slope, Brooklyn's 4th Avenue and this is your chance to see many of the runners in a less crowded location.  It also doesn't hurt that popular watering holes like the 4th Ave Pub and Cherry Tree line the route as well.  So, we suggest that you head into Brooklyn, take in the race, and enjoy an ice cold pint.  Sounds like a perfect Sunday to me.   A word of warning, however- if you try to drive in New York City this Sunday be aware. There will be major road and bridge closures due to the race so we suggest you take a bus or a cab, or better yet avoid driving at all costs.  We advise you to take the subway or just walk and enjoy the brisk fall weather.  Hey, we could all use the exercise.
The schedule is as follows: At 8:30am the wheelchair division begins first. The first wave of runners will begin roughly around 9:40am, second wave at 10:10am, and the third wave at 10:40am. They will be doing this to stagger the runners to avoid thousands of people bunching together.  Any way you choose to watch the New York City Marathon is truly up to you. But please watch it as it is just one of the many reasons why our fair city is one of the best in the world. And this is something to be proud of.  For more information, check out nycmarathon.org and best of luck to all of the runners!
- Alan Smithee
Related Articles
Share
About Author
(1) Reader Comment